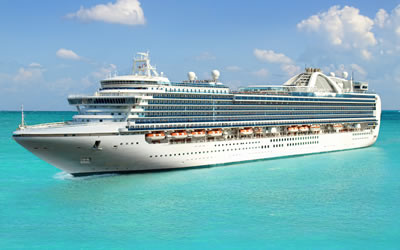 CERTIFICATE DETAILS
This offer is valid for a 3 Night or 4 Night Cruise for two adults ages 21 one and over with a valid driver's license, valid passport's and major credit card at one of the destinations described below. 90-day advance notice is required before traveling. The price of the 3 Night Cruise starts at $229 per person and for the 4 Night starts at $249 per person. A $50 non-refundable deposit in U.S. currency is required and $5.95 shipping & handling fee. Traveling guests are responsible to pay a processing fee that ranges between $39-$69 per person, plus cruise line NCF's (port fees) and government taxes. Premium ships/cruise lines, when available, are subject to additional surcharges. Cruise line fuel surcharges are additional if applicable. Fees must be paid immediately via credit card in order to make your reservation. Sailings are available on select dates with an additional charge for high or peak season, if and when available. Not applicable for holiday sailings. Offer is capacity controlled and is subject to availability. Reservations are subject to availability. Destinations are subject to change based on availability. The recipient is required to pay all government taxes, state sales tax, port fees, and other fees associated with this offer. No pets allowed. This offer does not include transportation. The certificate holder is responsible for the terms and conditions as they apply to the date of redemption. This certificate has no cash value and is void if discontinued or where prohibited by law.
3 NIGHT CRUISE PORTS AND DESTINATIONS
Miami to the Bahamas • Los Angeles to Mexico • Port Canaveral to the Bahamas
4 NIGHT CRUISE PORTS AND DESTINATIONS
Port Canaveral to Freeport & Nassau • Miami to Key West & Cozumel • Los Angeles to Catalina & Ensenada
The cost to redeem this certificate to receive a reservation form is a one-time redemption fee of $35.00 for processing, postage, and handling. To redeem this certificate, the customer goes to the Certificate Redemption Website. At that website, the customer will enter the Certificate ID# located at the bottom of the certificate to validate their certificate and to securely submit the redemption fee.
The customer will receive the reservation form by email within 24 – 48 hours after redeeming the certificate. Simple redemption instructions are clearly stated in the email.